Lab members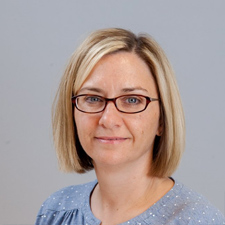 Cathy Lake
Research Scientist
Education
B.S. Biology - University of Missouri-Kansas City
‍
Ph.D. Molecular Biology and Biochemistry - University of Missouri-Kansas City


Research Summary
Cathy joined the Hawley Lab in 2003, following the completion of a Ph.D. at UMKC that focused on the study of a herpes virus. She is both the lab's Senior Research Scientist and the Lab Manager. Since joining the lab, Cathy's focus has been on identifying and studying genes required for homolog pairing and recombination during meiosis. Cathy has played a critical role in shaping understanding of the synaptonemal complex. Currently, her research has focused on a set of genes encoding potential E3 ligases that are required for determining DNA double-strand break fate. These genes are both required for the process of creating the DNA double-strand breaks and converting a subset of those breaks into crossovers.  Perhaps most excitingly, these proteins appear to localize to the Recombination Nodule, one of the most fascinating and mysterious structures in the meiotic nucleus.
‍

Selected Publications (of 16)

Narya, a RING finger domain-containing protein, is required for both meiotic DNA double-strand break formation and crossover maturation in Drosophila melanogaster
Lake CM, Nielsen RJ, Bonner AM, Eche S, White-Brown S, McKim KS, Hawley RS.
PLoS Genet
. 2019;15:e1007886. doi: 1007810.1001371/journal.pgen.1007886.​  
‍
Original Data
‍
Becoming a crossover-competent DSB
Lake CM, Hawley RS.
Semin Cell Dev Biol
.2016;54:117-125.  
Vilya, a component of the recombination nodule, is required for meiotic double-strand break formation in Drosophila.
Lake CM, Nielsen RJ, Guo F, Unruh JR, Slaughter BD, Hawley RS.
eLife
. 2015;4:e08287. doi: 08210.07554/eLife.08287.
‍
Original Data
The molecular control of meiotic chromosomal behavior: events in early meiotic prophase in Drosophila oocytes.
Lake CM, Hawley RS.  
Annu Rev Physiol.
2012;74:425-451.
The Drosophila zinc finger protein trade embargo is required for double strand break formation in meiosis.
Lake CM, Nielsen RJ, Hawley RS.  
PLoS Genet
. 2011;7:e1002005.
A Genetic Analysis of the Drosophila mcm5 Gene Defines a Domain Specifically Required for Meiotic Recombination
Lake CM, Teeter K, Page SL, Nielsen R, Hawley RS.
Genetics
.2007;176:2151-2163.
‍