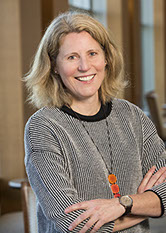 Tatjana Piotrowski, PhD
Principal Investigator
Hometown
‍Herrenberg, Germany

Education
Diplom University of Tuebingen, Germany + University of California, San Diego (laboratory of R.G. Northcutt) 
‍
PhD Max-Planck-Institute for Developmental Biology, Tuebingen, Germany (laboratory of C. Nuesslein-Volhard)
‍
Research Interests
‍I am fascinated with how embryos develop and how cell-cell communication is orchestrated to ensure that cells acquire correct fates at the correct times, reach their proper location in the embryo and form organs. More recently, I have become intrigued by of how sensory cells regenerate in a sensory organ and what role developmental pathways play in that process. In our work, I particularly enjoy the combination of in vivo imaging, functional studies and genomic analyses.