From plains settlers and Civil War battles to jazz clubs and the Negro League, Kansas City has grown into a diverse and vibrant city. It is rich with live music, theater, museums and professional sports, with free public transportation downtown. The restaurants range from fine dining to farm-to-table, with an emphasis on Kansas City barbecue. For weekend fun, choose from amusement parks, pickleball courts, and the nation's first outdoor shopping district. With all of these benefits, it might not come as big surprise that Kansas City made it onto National Geographic's list of Best Trips 2019 worldwide. Add in excellent area schools,
an affordable cost of living
, and easy travel to either coast, it's clear there is something for everyone in
Kansas City, Missouri
.
‍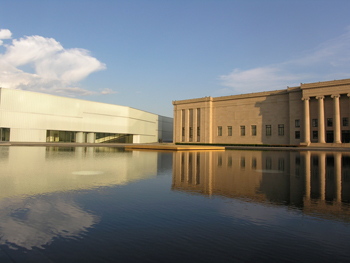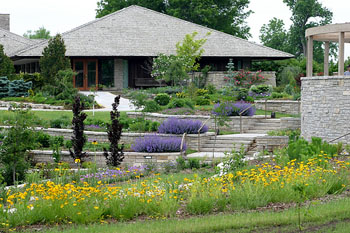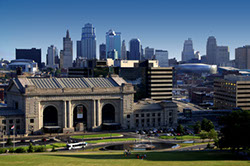 Arts
The Kauffman Center for the Performing Arts was designed by Moshe Safdie whose works are known for their dramatic curves and arrays of simple geometric patterns. The Kansas City Ballet, the Lyric Opera of Kansas City, and the Kansas City Symphony each share space in the architecturally distinctive building that graces the downtown skyline.

Minutes from the performing arts center is the Crossroads Arts District. It is home to an eclectic mix of shops, studios, galleries, and boutiques. Local artists and designers converged to create a diverse arts community offering everything from furniture, flowers, chocolates, and baked goods to watercolors, oils, photographs and glass and metal sculptures. The Crossroads Arts District hosts monthly events dubbed First Fridays and Second Saturdays that open the area to visitors in a street fair-like atmosphere.

Located in the heart of Kansas City, the Nelson Atkins Museum of Art stands as a monolith of limestone in a beautifully manicured landscape of gardens. A recent modern addition to the building strikingly reflects the contrast of new architecture to old. The Nelson houses a world-class permanent collection of art and regularly features special exhibitions. The Kemper Museum of Contemporary Art and the Kansas City Art Institute are both situated within blocks of the Nelson. All three offer workshops and art classes for children and adults.

Included in the diverse arts abounding in Kansas City is the Jazz District. This district is anchored by the American Jazz Museum and the Negro Leagues Baseball Museum. Live jazz entertainment, reminiscent of the days when Charlie Parker, John Coltrane, or Count Basie played here, is available almost nightly in either the Blue Room or the Gem Theater.

‍
Sports
The Kansas City area is the proud home to multiple professional athletic clubs including the Super Bowl Champion Kansas City Chiefs football team, the Kansas City Royals baseball team, the Sporting Kansas City soccer team and the Missouri Mavericks hockey team. Both the Chiefs and the Royals are housed in recently renovated, state-of-the-art stadiums with arguably the best fan base in the country. Sporting Kansas City inaugurated its new soccer stadium, Children's Mercy Park, in June of 2011.

Next door to Children's Mercy Park are the Kansas Speedway and the Community America Ballpark, where the American Association baseball team, the Kansas City T-Bones plays. The Speedway hosts both NASCAR and Indy Car Races. A single NASCAR event at the Speedway can draw a stunning crowd of over 120,000 people.

In addition to multiple professional sports, Kansas City is a hot bed for college sports. With several Big 12 Conference colleges located within a few hours either side of the city, rivalries abound. The basketball competition culminates at the NCAA Big 12 Tournament at the Kansas City based Sprint Center. Connected to the Sprint Center is the College Basketball Experience, a total immersion entertainment adventure into the sport of men's college basketball, and the National Collegiate Basketball Hall of Fame.

Professional golfer and Kansas Citian, Tom Watson, hosts a charity golf tournament that brings the largest names in golf to Kansas City every year: Arnold Palmer, Jack Nicklaus, Phil Mickelson are just a few of the many. Golfers can choose from over 45 public courses and numerous private courses including The National Golf Club designed by legendary golfer Tom Watson.

‍
Recreation
Whether your interests are geared to the outdoors or indoors, you will find something in Kansas City to suit you. For thrill seekers, there is the World's of Fun Amusement Park with a roller coaster touting a daring 205-foot drop. There are two outdoor and two indoor water-amusement parks.

The Kansas City Zoo encompasses over 200 acres of land with more than 1000 animals on exhibit. But, that doesn't compare with the Powell Gardens' 915 acres of garden displays. This botanical garden was designed to "embrace the Midwest spirit" with its gardens and gently flowing meadows.

Multiple area lakes offer summer opportunities for boating, sailing and skiing. The Missouri River serves as a base for multiple river boat casinos moored within city limits. In addition to being a gambler's paradise, they house a variety of restaurants and concert venues.

Other concerts, plays and Broadway style shows are available through multiple theaters and stages. The Midland and The Folly Theaters both feature early 1900's architecture.  The Midland caters to the concert scene, while The Folly is geared more toward the fine arts. The Coterie Theater is specifically oriented to families and young audiences and is nationally rated as one of the top 5 theaters in this category. Outdoor summertime productions are offered at the Starlight Theater and Providence Medical Center/Sandstone Amphitheater.

Kansas City's past meets with its present each October during the American Royal horse show and rodeo. Originally a small livestock show, the event has grown to include a horse and livestock show, professional and youth rodeo, entertainment events with some of country music's top performers and a top-ranked barbecue contest.

‍
Food
Barbecue may be synonymous with Kansas City but there is much more to the local food scene than just ribs and burnt ends. Kansas City's Boulevard Brewery is the largest specialty brewer in the Midwest producing about 600,000 barrels of beer a year. One of the best selling seasonal beers is the Chocolate Ale, designed in conjunction with local chocolatier, Christopher Elbow.

Christopher Elbow Artisanal Chocolates mixes chocolate with a variety of other flavors such as lavender, grapefruit, chili, and elderflower to create a small work of edible art.  The chocolatier gained national acclaim when Oprah Winfrey named his chocolates one of her "Favorite Things".

And again, it wouldn't be Kansas City without barbeque. Gates and Sons, Arthur Bryant's, Fiorella's Jack Stack, Joe's Kansas City, BB's Lawnside, Danny Edward's, Winslow's, Hayward's, and Smokestack—just to name a few of the local joints. The typical long and slow smoking process and the prolific use of sauce rather than dry rub has attracted a loyal following: The Kansas City Barbecue Society boasts over 20,000 members worldwide.

But if barbecue is not your style you will still find a big variety of restaurants and specialty shops offering everything from burgers to sushi to foie gras to tapas.

‍

Schools
The Kansas City metropolitan area spans two states and covers 7952 square miles.  41 school districts provide services in that area. There are multiple urban, suburban, private, parochial, and charter schools from which to choose. Since 1992, 70 local schools have been awarded the Department of Education's prestigious Blue Ribbon School Award.  This award recognizes both high performing schools and schools that have significantly improved student achievement.

Based on 2010 SAT scores both Kansas and Missouri scored an average of 595 on the math section of the exam.  The national average for that section is 516—both states beating that average by 79 points.

There are 34 colleges, universities and technical schools in the area.  They include both University of Missouri-Kansas City and University of Kansas Medical School. Smaller distinguished schools include Rockhurst University and William Jewell College, both ranked well by the US News and World Report College rankings.

‍

Economy
Kansas City has an important and influential economy that impacts the entire region. The centrally located city is well suited to accommodate a large manufacturing base and is home to one of the country's biggest foreign trade zones. Both benefit from an expansive rail network. It is home to several Fortune 500 and 1000 companies and is the headquarters to more than 47 companies and organizations. Major employers include Garmin, Hallmark Cards, General Motors, Ford, Honeywell, Citigroup and American Century Investments.

A low cost of living allows Kansas City to be consistently ranked as one of the most affordable major markets to live and work aided by a strong transportation network and low energy costs. While the national housing market is unsteady, Kansas City's market has remained relatively unmarred.
‍